NOVIA

Bottle-less Mineral Water Cooler in Maximum Comfort & Style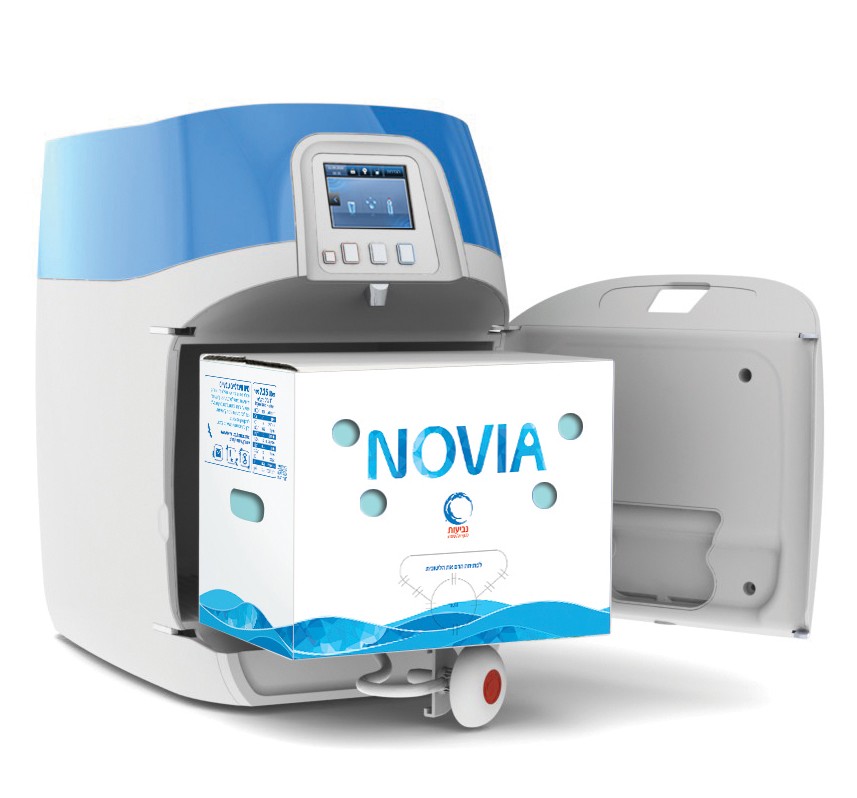 The innovative stylish compact countertop mineral water cooler Novia, offers an alternative to the traditional on-top bottles, which are replaced by a bag in a box technology - allowing an easy and simple refill of fresh mineral water.
Bag in a box
Using the Bag in a box technology, Novia offers the eco-friendly water container, which is placed inside the cooler and contains 7.25 Liter / 245 FL OZ water. The container consists of a water bag inside a carton box, which is placed inside the water cooler and allows you to place Novia under your kitchen cabinets, with no bottle on top.
Novia's engineers designed a patent pending user friendly cap, to use with standard bags of leading bag in a box manufacturers, providing maximum convenience to the customer - with a user friendly sticker cover that can be instantly removed, to assure an easy and simple use of the container inside the cooler.
For more information regarding our cap and its compatibility with leading bags manufacturers please press here to contact us
Full color Touch screen with a User friendly interface
Since water is placed inside the water cooler and cannot be seen, Novia automatically displays an alert when the water level in the container is low, so you always know when the water container needs to be replaced. In addition, the current water level in the container is always visible via the icon on the main screen.
Novia offers cold, cook, hot and extra-hot water, at the touch of a button, in comfort and style. The easy to use interface allows flexibility in defining the personal settings, including pre-set water quantities, cold water temperature, as well as the amount and temperature for a baby-bottle and automatic energy-saving.
Automatic Maintenance (Registered patent)
Novia's advanced technology includes the registered patent automatic maintenance system, in order to remain in top condition over time with no user intervention. Novia performs Automatic Maintenance by heating the water in the system, conducted automatically without any user intervention, and can also be performed manually, at any given time.